The best of George Zimmer of Men's Wearhouse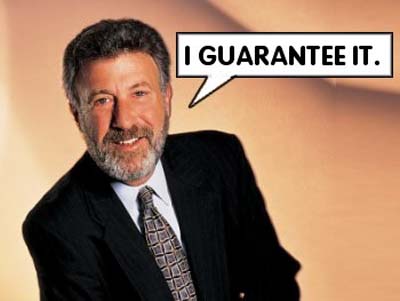 By now you've probably heard the news of the acrimonious way in which Men's Wearhouse founder George Zimmer was unceremoniously fired by his own company. You may not have remembered the name George Zimmer before this week, but you definitely would have remembered his distinct voice and signature slogan, "You're going to like the way you look, I guarantee it."
That slogan brought a certain cachet to Men's Wearhouse and suave ambiance. Zimmer was like a pre-modern Dos Equis guy for men's fashion. He's a legend of the commercial industry. In what may be a cruel twist of irony, the last ad that Zimmer appears in on the MW YouTube page is entitled "New Bottom Line."
Here now is our tribute to George Zimmer... which is basically just a walk down memory lane with some retro Men's Wearhouse spots and him repeating his signature catchphrase over and over again. Hey, at least those jerks on the Men's Wearhouse board can't take that away from him!
1988
1993
1996
1998
2007
2011
2012
2013