NBA Christmas Day ad features Jingle Hoops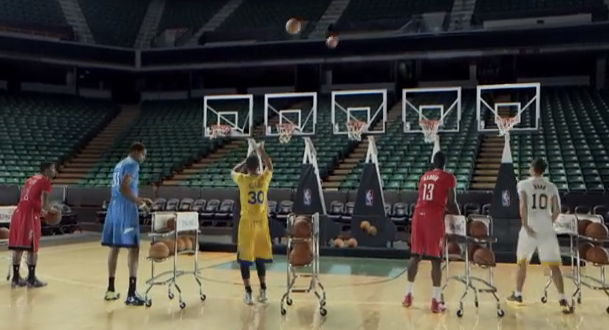 I know, it's the middle of November and it's way too early to be talking about Christmas. It's not even Thanksgiving yet! But hey, I've already endured my first snowfall of the winter and the local oldies station has been playing Christmas music since Labor Day, so we better just accept it and move on.
In the sports world, the NBA owns Christmas Day with 5 games and the league has produced an ad featuring players from all of those games. In this pretty creative spot, Derrick Rose, Kevin Durant, Steph Curry, James Harden, and Steve Nash shoot baskets at 5 hoops that play Jingle Bells for every swish. Oh, and there's a guest appearance from LeBron James.
This ad also serves as an introduction to the NBA's new, intense, crazy push for uniforms with sleeves. I'm no fashionista, but there's a good reason why you only see them from behind in this commercial. Most of them are absolutely hideous and should be burned or covered with burlap sacks. Have you seen some of these? Forget watching the games, I just hope nobody has to suffer the misfortune of finding one of those things under their Christmas tree.