Coca-Cola creates a park in a commercial that's too good to be true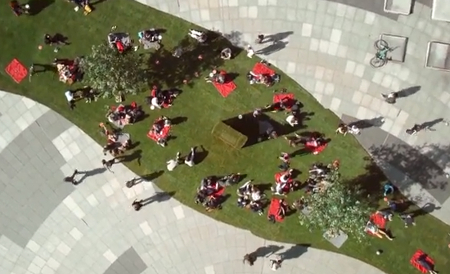 Coca-Cola rolled out a park in a dismal, gray landscape in their most recent advertisement. They brought in grass, trees and a vending machine which only dispensed their product once you removed your shoes. The idea was that everyone needs to take a break, feel the grass between their toes and enjoy a Coke.
Cool concept and fun commercial, but the whole thing feels just a little too perfect.
We're forced to look at advertisements with a cynical eye. If something seems too good to be true, it usually is. This Coca-Cola spot is pretty awesome and heartwarming on the surface, but underneath it just screams phony. It may very well be genuine, but the combination of individuals, clothing and actions of those involved just feels ... predictable. It'd be amazing if this was a random event inspired by Coca-Cola, but we're left feeling these are actors brought in by an agency.
We'd love for this commercial to be the genuine article, but we're skeptical and thus unmoved by what is a pretty outstanding concept.