Every successful celebrity advertisement is memorable for a reason. Apple embraced their inner quirkiness with Zooey Deschanel for the launch of Siri on the iPhone 4s. Lincoln went for the introspective look in the Matthew McConaughey spots that were widely mocked, but still plenty effective and talked about. Now, a Kate Upton led advertisement for a mobile game, Game of War: Fire Age, has become the most talked about campaign in a long time.
Game of War: Fire Age isn't anything special as a game. In fact, it's quite ordinary. It's a typical freemium game: Think Clash of Clans but worse - a social game where you conquer, build stuff and get frequently prompted to spend actual money. So why is this blandly named and made game becoming more popular among mobile gamers? Well, they launched a $40 million ad campaign and snagged supermodel and Kate Upton to be the face of a game. Check out these stiffly acted, yet well produced adverts featuring the Sports Illustrated Swimsuit cover girl.
The game also features Upton's likeness.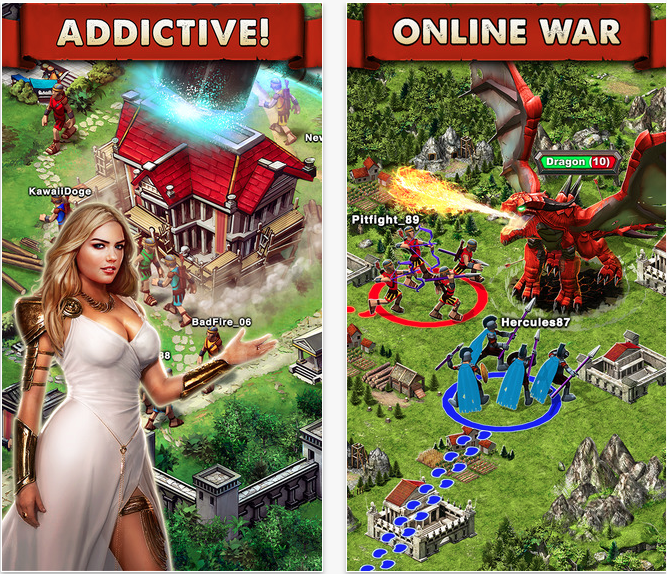 These are finely produced spots - you can tell they put a lot of money into them - but it's easy to understand why Kate Upton hasn't yet made the leap from model to movie star. Her acting, is uh, not good - but most importantly for Game of War: Fire Age, Upton sticks out like a sore thumb.
Machine Zone Games, the maker of Game of War, has reportedly raked in cash making over $1 million a day from their advertising blitz, while hovering around 2.4 million daily active users. That's a lot of cash and a lot of people playing Game of War - and that should largely be attributed to how much money they've reportedly spent. The LA Times has estimated Machine Zone Games has spent $80 million on over 9,000 television ad spots. As the old phrase goes, you have to spend money to make money, and Machine Zone games certainly has done that, and then some.
We know the reason why this game has become popular, and it's not because of the gameplay. Signing Kate Upton and using her considerable talents was a brilliant play. The Game of War demographic likely aligns with those who are most familiar with Kate Upton's work, and in case you didn't know, sex sells. The video spots online have received between two, to up to 20 million views each. Considering the popularity of Upton mixed with the criticism of the gameplay, Machine Zone War has disabled likes and dislikes on YouTube videos. Perhaps most foolishly, they haven't disabled comments. There are thousands of disparaging comments, here are some of the tamer ones. (Slightly NSFW)
The comments only get worse and more perverted, but the bottom line is, Game of War: Fire Age wouldn't be one of the most downloaded mobile games without Kate Upton. Whether it ever becomes a critical success isn't important, because they've found the secret to making money in a busy mobile game landscape: Spend a boatload of money to hire one of the world's most desirable women, and plaster her on every single advertisement you make. They've made one of the most successful celebrity ad campaigns ever. Time will tell if other gaming companies take similar routes, I'm betting they will. Fun or not, Game of War: Fire Age is here to stay.